Heather Severson's Media Appearances & Classes
I'm delighted to be one of 38 presenters at Journal Conference 2016, May 19-22, 2016 near Asheville NC. For anyone who writes a journal, for therapists who use journaling as part of their practice, or for poets and writers who are looking for inspiration, this is going to be an extraordinary event. My session combines intentions for the Mindfulness and Professional Growth Tracks.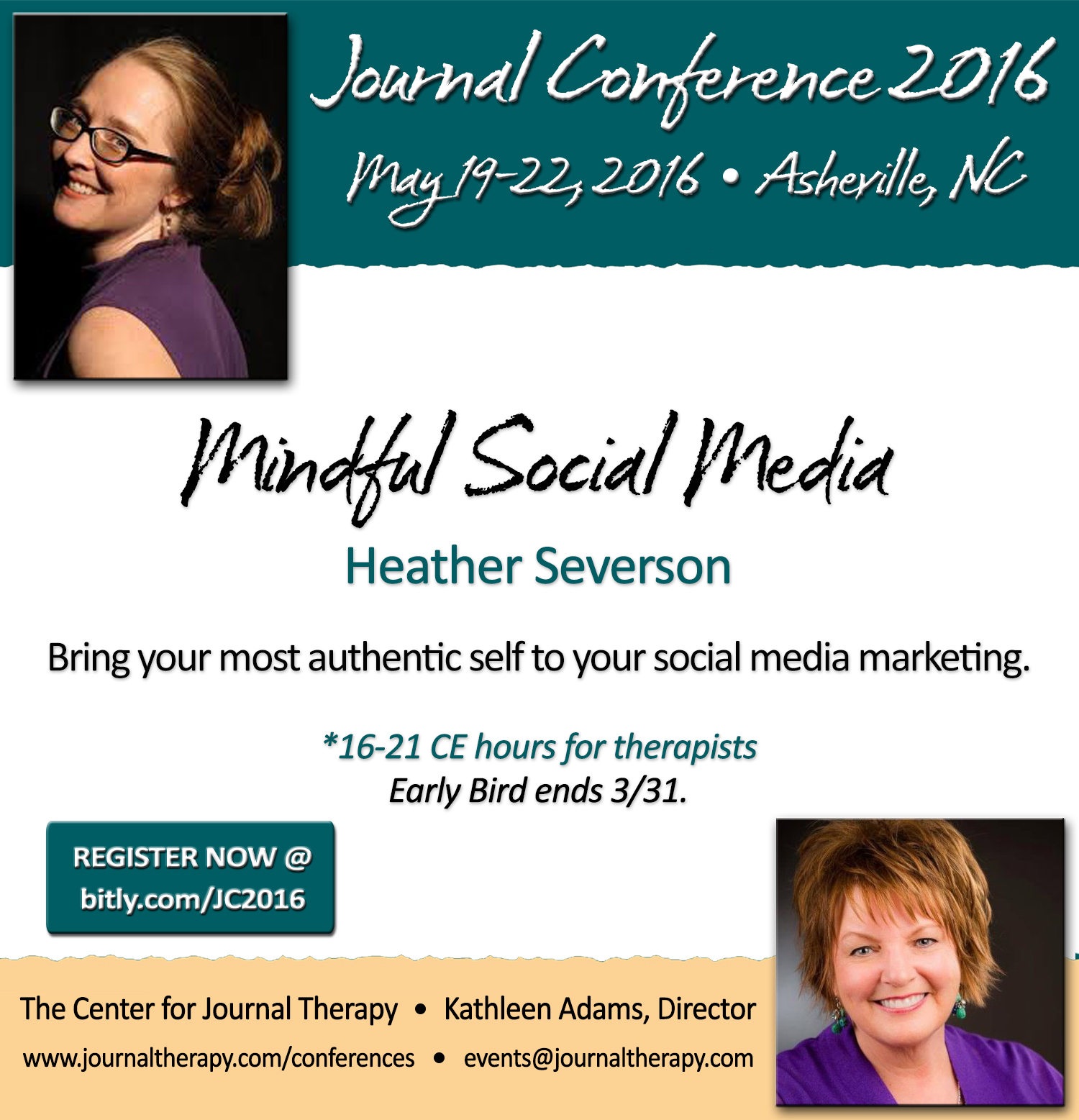 ---
Social Media for Beginners: Online class at the Therapeutic Writing Institute
Social Media doesn't have to be scary! This course digs deeply into some of the topics that Kay and Heather covered in their February 2015 conversation. Learn some simple strategies to incorporate social networking into your business promotion and outreach efforts. Explore the reasons why social media is so compelling for people in our business. Explore and experiment to see which social networks might be right for you. Establish personal guidelines to evaluate the return on your social media efforts. Finally, begin the work of promoting your professional practice. We will do some hands-on work on a variety of platforms. We will also discuss other options that might be suitable for participants' work.
8-week Spring Course, March 24-May 18, 2016.
4-week Summer Course, July 23-Aug 19, 2015.
---
Confessions of a Mercenary Scribe
Kathleen Adams and Heather Severson discuss freelance writing for her Journalverse Ask The Experts feature. Airdate: July 8, 2015.
---
The Nuts & Bolts of Freelancing: Workshop at Casa Libre en la Solana
Workshop Facilitators: Heather Severson and Wynne Brown
Workshop Structure: 1 session, 3 hours. 9-12, followed by no-host lunch nearby
Date: Saturday, May 30, 2015
Price: $30-$50 sliding fee.
Location: Casa Libre en la Solana
Workshop Overview
Freelancers Heather Severson and Wynne Brown share their knowledge and resources to help writers, editors, designers, and other creatives take their skills to the marketplace, to earn a decent living as freelancers. Topics include business structure, record keeping, quarterly taxes, marketing, establishing rates and fees, tools of the trade, professional development, and more. The workshop is followed by lunch at a nearby restaurant for casual conversation and networking.
---
Sweet and Sexy Social Media for Transformative Language Artists
Kathleen Adams and Heather Severson discuss social media for her Journalverse Consultation Clinic. Airdate: February 19, 2015.
---
Occasional Podcast Co-host at Nathan Ohren's Journal Talk Question and Answer Sessions
---
Celebrate Journal Writing with IAJW! Journal Luminaries Speak and We Do, Too: Converse, Consider and Connect.
Published October 7, 2014.
Ruth Folit, Lynda Monk, Nathan Ohren, and Heather Severson discussed what they learned from listening to nine journal luminaries discuss their journal writing practices.
Listen to the panel discussion
Order your own copy of the Celebrate Journal Writing interviews.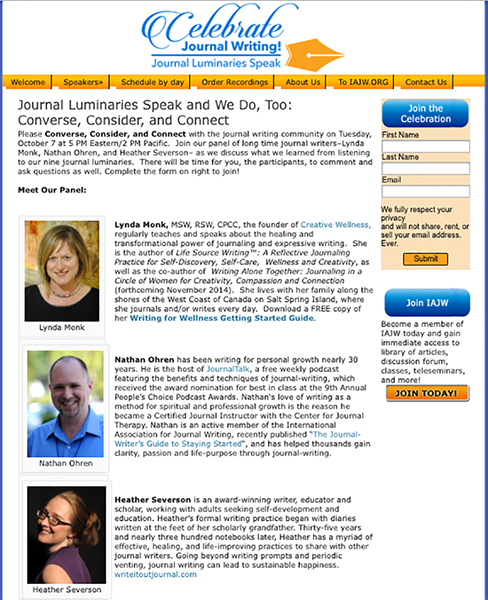 ---
How to Manage a Lifetime Collection of Journals
Published April 13, 2014.
Heather is interviewed by Nathan Ohren, host of JournalTalk, a weekly podcast about journal writing.
http://www.write4life.us/Hypergraphia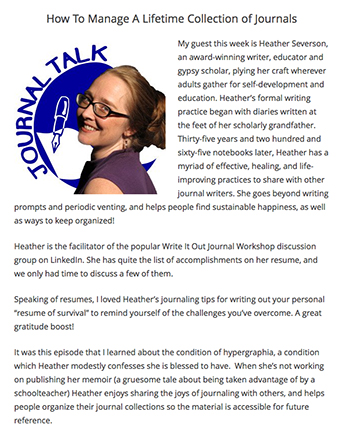 ---
Searchable database could help decrease child abuse in schools
Published March 24, 2014.
In 2012, Gov. Jan Brewer proposed a database that would make information on teachers readily available online, and it's almost finished. The site would provide the teachers background information, like certificates and disciplinary action, in order to keep better track of who should- and shouldn't- be leading a classroom. When it's up and running, Arizona will join states like Florida, Ohio, and California which already have searchable teacher databases. Cronkite News reporter Yahaira Jacquez has the story.
---
Southern Arizona Writing Project
Published December 3, 2008.
Heather Severson, Technology Liaison, extolls the virtues of the Southern Arizona Writing Project for Educator Professional Development in 20 minute video.
Heather appears at 13:00 minutes.
---
Body Resolution's exercise programs focus on stamina, flexibility, strength
Posted: Wednesday, December 31, 2014 4:00 am
Alan M. Petrillo Special to The Explorer