Heather's Products
Your purchase helps support Heather's efforts to promote professional development, mentoring, and networking in Southern Arizona and wherever writers and other creative professionals make their home.
Please contact Heather to make a purchase.
---
The Mercenary Writer's Guide to Setting Rates & Fees (PDF workbook)

Description
The Mercenary Writer's Guide to Setting Rates and Fees (PDF workbook) is a working document to help freelance writers, editors, designers, and other creative professionals to establish their rates and fees.
The result of completing this workbook is a Master Fee Schedule that allows freelancers to bid on projects with a minimum of time and effort.
Regularly updating and refining this document will help the freelancer establish and maintain priorities, and engage in best practices for a satisfying career.
Price: $5.00
Format: 28-page PDF workbook
Testimonials
"[Your worksheets on setting freelance fees] are a tour-de-force! What a terrific resource -- clear, logical, beautifully thought out ... Surely you've thought about expanding this into an e-book format and selling it? I recently read [another book on the topic] and liked it a lot, but your "system" is much more thorough. It asks more of the user, which is as it should be, because the user gets a LOT out of it." --Wynne Brown. Writer, Editor, Graphic Designer, Illustrator
"I attended my first EFA meeting on Tuesday night, and I didn't want another day to go by without thanking you for an awesome presentation. It was almost as if you read my mind and immediately began to compile answers to the questions you found there (among the lint and old socks). I'm quite sure there were others in the room who were just as mystified about the business as I was until they encountered your talk. I discovered that I wasn't as far off as I thought I was, but as I've been operating in a vacuum, I had no idea if I was on the right track. Many, many thanks for the 'mentoring!' … I usually don't do backflips when I compliment someone, but your talk was a game changer for me, and I really felt you needed to know about it." 
--Dave Sewell, aka The Tucson Wordsmith
"[T]hanks again for all the advice on rates. It really helped me price out this job, and just as importantly, offer my proposal to the would-be client without apologies. Yip!" 
--Susan W. Editor and Designer
---
Slide Show, April 15, 2014 Rates and Fees Workshop, sponsored by StudioGraphia and the Editorial Freelancers Association Arizona Chapter
Price: $5.00
Format: 62-page PDF slideshow
---
Slide Show, November 20, 2014 Rates and Fees Workshop, sponsored by StudioGraphia and AIGA Arizona.
Price: $5.00
Format: PDF slideshow
---
Celebrate Journal Writing with IAJW!
Journal Luminaries Speak and We Do, Too: Converse, Consider, and Connect
Ruth Folit, Lynda Monk, Nathan Ohren, and Heather Severson discussed what they learned from listening to nine journal luminaries discuss their journal writing practices. Natalie Goldberg, Louise DeSalvo, Christina Baldwin, Mark Matousek, Caryn Mirriam-Goldberg, Sheila Bender, John Evans, Beth Jacobs, and Susan Borkin talked with Ruth Folit about writing.
Listen to the panel discussion
If you like what you hear, and you want to experience the nine interviews for yourself, click one of the links below to purchase them.
Order your own copy of ALL NINE Celebrate Journal Writing interviews!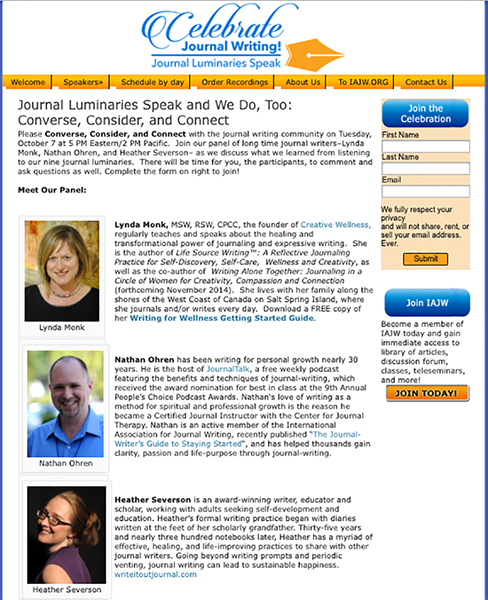 ---
Buying books? My first recommendation is that you patronize local independent purveyors. Use this link to support your reading habit AND your local independent booksellers via IndieBound. Another option is to purchase products from this Amazon affiliate link. Thanks for your support!